FORTHCOMING EVENTS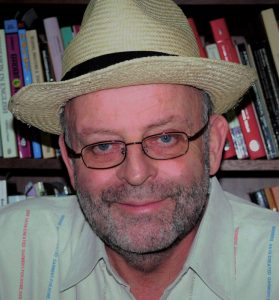 STEPHEN BROWNING
Friday, September 15th, at 6.30pm
The Holt Bookshop, 10 Appleyard, Holt
Tickets are £5, redeemable against the purchase of a book
Norfolk Coast in the Great War focuses on the trials and joys, the achievements and disappointments, the humour and the sadness of every-day life in a region living on the edge of the country at the heart of the Kings vast Empire. Everyone from the folk who went off to fight, to scouts and schoolchildren, had a role to play in this coastline that had, since the time of the Spanish Armada, been considered a likely place for an enemy invasion. There were days of great tension, even terror, such as on the day of the first bombardment of the coast by the German Navy, and the day of Zeppelin attacks and dog fights out to sea when the flimsy planes of a fledgling RAF took on the Red Baron and his comrades.
The book also recounts the incredible deeds of local fighting men, the trawler fleet and Henry Blogg, often called the bravest man who ever lived, and his RNLI crew.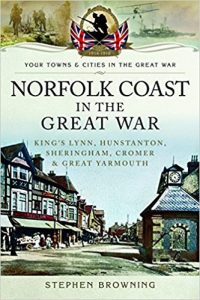 This unique study is based largely on original archive material, much of it never before published in book form. It is accompanied by many rare and fascinating photographs that show the day-to-day life of the people who lived in the many settlements on the coast and just inland. In addition, this book also gives an itinerary for a walk along the 46 mile stretch of the coast from Hunstanton to Cromer, taking in many of the places discussed and giving views that are exactly the same as they were 100 years ago.
Stephen Browning has written a series of books with Norfolk themes. Norwich in the Great War was published by Pen & Sword in January 2016. Other titles include Discover Norwich, Discover Norfolk: Land of Wide Skies, Spirit of Norwich Cathedral, Norfolk Food Heroes and Peddars Way and the Norfolk Coast Path. He has also written The World of Charles Dickens. In Asia he has written several books aimed at helping young professionals with their English skills, two of which have won top awards in Taiwan. Time permitting, he also enjoys writing features for Norfolk magazines and newspapers as well as detective stories.
MELVYN FICKLING
Saturday signing, September 16th, 11am to 1pm
The Holt Bookshop, 10 Appleyard, Holt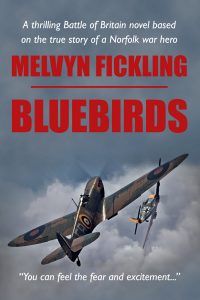 North Norfolk author Melvyn Fickling will be signing copies of his Battle of Britain novel Bluebirds at the bookshop between 11am and 1pm on Saturday, September 16th.
Based on the true story of a Norfolk war hero , the book revolves around three pilots who fly Spitfires through the summer of 1940.
Invasion is imminent and Britain faces almost certain defeat at the hands of the Luftwaffe in the Battle of Britain. Bluebirds recasts The Few in the darker shadow of their desperate times, fighting against terrifying odds against the imminent expectation of death.
The author lives in Wells-next-the-Sea.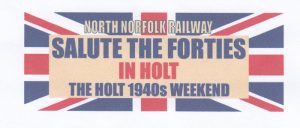 The event coincides with the Holt 40s weekend.
ROBERT GREENFIELD
Saturday signing, September 30th, 10.30am to 1pm
The Holt Bookshop, 10 Appleyard, Holt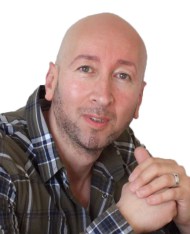 Come and meet North Norfolk author Robert Greenfield who will be signing copies of his book The Cedar Cage at The Holt Bookshop from 10.30am to 1pm on Saturday, September 30th.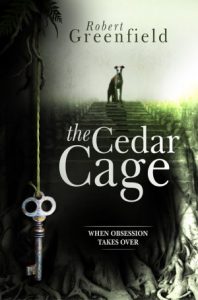 Robert's first novel is set in an Edwardian boathouse deep in the Norfolk marshlands. In 2008 Bertie, the new occupant, becomes convinced that a carpenter was murdered while working on the original site and finds himself immersed in a sinister web of family secrets. Bertie then receives an unexpected visitor on Christmas Day…
Robert is a former international fashion designer whose previous best-seller Samphire Coast related his experiences of running a B & B on the North Norfolk coast.
PAST EVENTS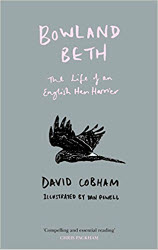 DAVID COBHAM
Thursday, August 3rd, at 6.30pm
The Holt Bookshop, 10 Appleyard, Holt
This event is free but please R.S.V.P
International filmmaker David Cobham will be at The Holt Bookshop at 6.30pm on Thursday, August 3rd, to discuss his book Bowland Beth: The Life of an English Hen Harrier.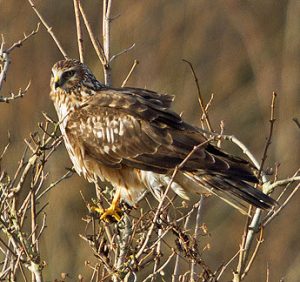 With only three nesting pairs in England, the Hen Harrier is a totemic species in the battle between conservationists and ruralists. David's book dramatizes Beth's short life which ended when she was shot dead in 2012 in an apparent act of persecution. Beth's tragic story dramatically highlights the major issues in UK conservation.
In his book, David immerses himself not only in the day-to-day regimen of her life, the hours of hunting, bathing, keeping her plumage in order and roosting, but also the fear of living in an environment run to provide packs and packs of driven grouse for a few wealthy sportsmen to shoot.
David, who lives in North Norfolk, will be joined at the event by Dan Powell, whose beautiful illustrations enhance the book.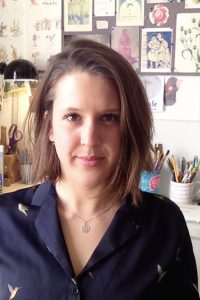 LUCY FREEGARD
Wednesday, July 26th, at 3.30pm
The Holt Bookshop, 10 Appleyard, Holt
Suitable for ages 3-7
Join author & illustrator, Lucy Freegard, to celebrate her new children's book, Just Like Daddy - a warm, humorous picture book celebrating a child's love for their father and celebrating a grown-up who still loves to have fun and be silly! Lucy will read from the book, talk about her inspiration for the story and how she goes about creating her artwork, plus she'll demonstrate some live drawing – come and see yourself recreated as one of her adorable animals! Lucy will be signing copies of her book, Just Like Daddy.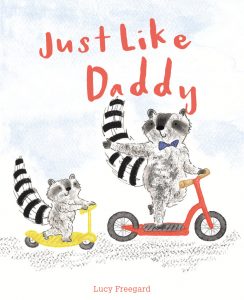 Lucy Freegard grew up in Holt. She graduated from the Cambridge School of Art with an MA in Children's Book Illustration and now lives in London, but revisits Holt as often as she can.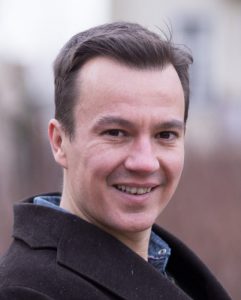 TOM PUGH
Thursday, July 27th, at 5.15pm
The Holt Bookshop, 10 Appleyard, Holt
This is a free event
Come and meet Tom Pugh who will be signing copies of his Renaissance thriller The Devil's Library at The Holt Bookshop at 5.15pm on Thursday, July 27th.
The novel follows two adventurers on their quest to obtain ancient, heretical texts involving the Pope's spymaster, Ivan the Terrible, and a book believed to have the power to bring about the Apocalypse.
The novel was inspired by Tom's own overland journey from Moscow to Naples. The son of Holt Festival director Charles Pugh, Tom lives with his wife and children in Berlin.
WELLS POETRY FESTIVAL
The Holt Bookshop is delighted to be supplying books for the 20th Wells Poetry Festival being held at Alderman Peel School from Friday, May 5th to Sunday, May 7th.
The festival starts at 8pm on May 5th with Michael Symmons Roberts and Paul Farley reading from their book Deaths of the Poets.
Festival programmes are available from the bookshop. For full details click here http://poetrynextthesea.co.uk/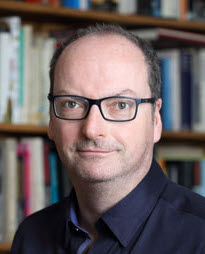 CARL GORHAM
Friday, February 24th, at 6.30pm
The Holt Bookshop, 10 Appleyard, Holt
Tickets are £5, redeemable against the purchase of a book
Come and meet award-winning TV comedy writer Carl Gorham who will be here at 6.30pm on Friday, February 24th, to talk about his new book The Owl at the Window: A Memoir of Loss and Hope.
Part love story, part widower's diary, the book tells of his wife's death from cancer and his attempts to rebuild his life afterwards with his six-year-old daughter.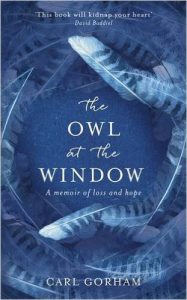 'She is dead. She was here just now and she was alive. How can she suddenly be dead? People in history are dead.
Old people are dead. Grandparents are dead. Other people are dead.
Not people like me. Not this person. The person I was married to.
Had a child with. Not the person who was standing next to me. Chatting. Laughing. Being.'
Shock is just one of many emotions explored in Carl's account of his bereavement which is by turns deeply moving and darkly humorous.
Realised in a series of vivid snapshots, it takes the reader on an extraordinary journey from Oxford to Australia, from Norfolk to Hong Kong through fear, despair, pain and anger to hope, laughter and renewal. The Owl at the Window is a fresh and original exploration of what it means to lose a partner in your forties, and how Carl learned to live again.
Carl, who lives near Holt, is best known as the creator, co-writer and producer of the acclaimed animated BBC2 sitcom Stressed Eric.
He has won numerous awards including an Indie and two British animation awards and has been nominated for a British Comedy Award and a Bafta.
RORY CLEMENTS
Friday, February 3rd, at 6.30pm
The Holt Bookshop, 10 Appleyard, Holt
Tickets are £5, redeemable against the purchase of a book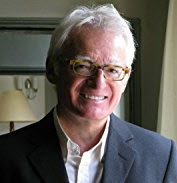 Award-winning North Norfolk author Rory Clements will be at The Holt Bookshop at 6.30pm on Friday, February 3rd, to talk about Corpus, the first in a major new series of thrillers.
Rory's previous seven novels have been set in the Elizabethan era and featured John Shakespeare, fictional brother of William.
Now Rory's focus moves closer to our own era.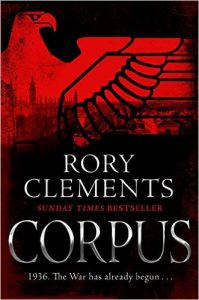 1936. Europe is in turmoil. The Nazis have marched into the Rhineland.
In Russia, Stalin has unleashed his Great Terror. Spain has erupted in civil war. In Berlin, a young Englishwoman evades the Gestapo to deliver vital papers to a Jewish scientist.
Within weeks, she is found dead in her Cambridge bedroom, a silver syringe clutched in her fingers. In a London club, three senior members of the British establishment light the touch paper on a conspiracy that will threaten the very heart of government. Even the ancient colleges of Cambridge are not immune to political division.
Dons and students must choose a side: right or left, where do you stand? When a renowned member of the county set and his wife are found horribly murdered, a maverick history professor finds himself dragged into a world of espionage which, until now, he has only read about in books. But the deeper Thomas Wilde delves, the more he wonders whether the murders are linked to the death of the girl with the silver syringe - and, just as worryingly, to the scandal surrounding King Edward VIII and his mistress Wallis Simpson...Set against the drumbeat of war and moving from Berlin to Cambridge, from Whitehall to the Kent countryside, and from the Fens to the Aragon Front in Spain, this big canvas international thriller marks the beginning of a major new series from bestselling author Rory Clements.
PHIL BARRETT
Friday, January 20th, at 6.30pm
The Holt Bookshop, 10 Appleyard, Holt
Tickets are £5, redeemable against the purchase of a book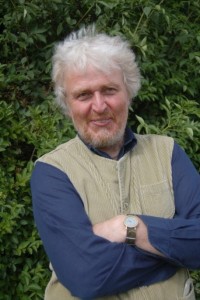 Prize-winning North Norfolk poet Phil Barrett will be at The Holt Bookshop at 6.30pm on Friday, 20th January, to launch his book of poems Writing Me.
Originally trained as a visual artist, Phil spent 27 years as head of art at The Purcell School for Young Musicians in Bushey, Herts.
Since taking early retirement, he has focused on his writing and has undertaken a range of poetry workshops with individuals and schools in North Norfolk. Writing Me is a sequence of poems which explores growing up in a Norfolk town.
These accessible poems conduct a lovingly detailed and witty exploration of the poet's growing up and his touching lifelong relationship with his parents, hearteningly honest produce from what he calls, in Mum's Vegetable Patch, 'this exceptional yet ordinary earth'. Michael Laskey
In this lucid, thoughtful collection Phil Barrett succeeds in conveying the texture of childhood, the vulnerability, the energy and the joys. He has an eye for 'telling' detail and the capacity to allow a poem to travel. Moniza Alvi
Phil will be introduced at the event by Kevin Crossley-Holland.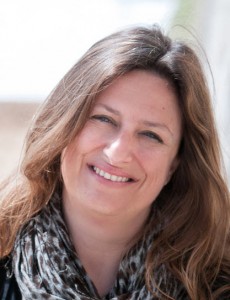 HOW TO PLOT THE
PERFECT MURDER
Friday, November 25th, at 6.30pm
The Holt Bookshop, 10 Appleyard, Holt
Tickets are £5, redeemable against the purchase of a book
Two of Britain's leading crime novelists, Elizabeth Haynes and Elly Griffiths, will be at The Holt Bookshop at 6.30pm on Friday, November 25th, to discuss the world of crime writing with John Smart, former Gresham's head of arts.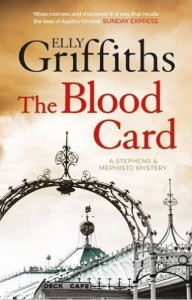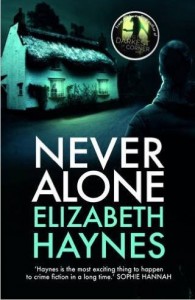 Elly is best known for her Ruth Galloway series, set in and around Titchwell, and her Stephens and Mephisto series, set in Brighton.
Elizabeth, a former police intelligence analyst, lives in Norfolk and her new psychological thriller, Never Alone has just been published. Her debut novel Into the Darkest Corner was published in 37 countries.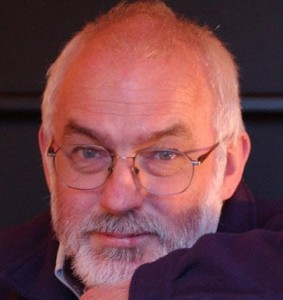 RICHARD GIRLING
Friday, November 11th, at 6.30pm
The Holt Bookshop, 10 Appleyard, Holt
Tickets are £5, redeemable against the purchase of a book
Come and meet North Norfolk author and award-winning journalist at the bookshop on Friday, November 11th at 6.30pm. Richard will be discussing his new book, The Man Who Ate the Zoo: Frank Buckland, Forgotten Hero of Natural History.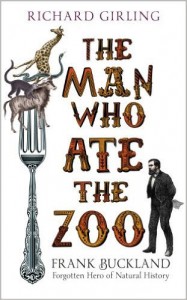 The Man Who Ate the Zoo is a lively biography of 'the forgotten man of Victorian science,' a surgeon, natural historian, writer and conservationist. Buckland was obsessed by food security and finding ways to feed the hungry.
He can be credited with saving British fish from commercial extinction.
NICKY LOUTIT
Friday, October 14th, at 6.30pm
The Holt Bookshop, 10 Appleyard, Holt
Tickets are £5, redeemable against the purchase of a book
Come and meet artist Nicky Loutit who will be discussing her new book on October 14th at 6.30pm.
In 2015 Nicky began making paintings which evolved as she walked the North Norfolk Coast. Her book is a visualisation of memory - of how our past returns to us when we least expect or want it to - as well as a meditation on motherhood, ageing and a life fully lived.
An artist for 40 years, Nicky will be talking about her life to publisher Henry Layte.
SIMON BARNES
Friday, September 30th, at 6.30pm
The Holt Bookshop, 10 Appleyard, Holt
Tickets are £5, redeemable against the purchase of a book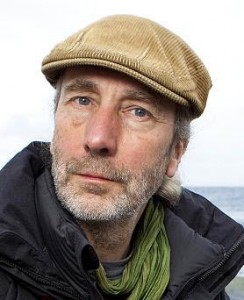 Simon Barnes will be at The Holt Bookshop on Friday, 30th September at 6.30pm, to talk about his new book The Meaning of Birds.
One of our most eloquent nature writers offers a passionate and informative celebration of birds and their ability to help us understand the world we live in.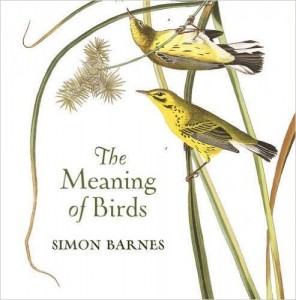 From the mocking-birds of the Galapagos who guided Charles Darwin toward his evolutionary theory, to the changing patterns of migration that alert us to the reality of contemporary climate change, Simon explores both the intrinsic wonder of what it is to be a bird - and the myriad ways in which birds can help us understand the meaning of life.
Simon, who lives in Norfolk, worked as a journalist on The Times for 32 years, serving as Chief Sports Writer until 2014. He also wrote a weekly wildlife and bird-watching column.
Simon is the author of seventeen books, including three novels.
Children's Storytelling with Nandana Sen
Tuesday, July 26th and Wednesday, July 27th, 10-10.30am
The Holt Bookshop, 10 Appleyard, Holt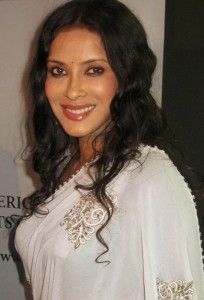 Come and meet Indian author and award-winning actress Nandana Sen who will be at The Holt Bookshop from 10-10.30am on Tuesday, July 26, and Wednesday, July 27, to read from her new children's book Kangaroo Kisses.
The free readings form part of this year's Holt Festival and are designed for children aged 3+ (accompanied by an adult).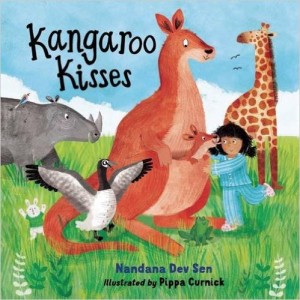 The book follows one mischievous child as she delays getting ready for bed and has some amazing wildlife encounters along the way.
A leading child rights activist, Nandana has starred in more than 20 feature films.
HUGH ALDERSEY-WILLIAMS
Thursday, June 9th, at 6.30pm
The Holt Bookshop, 10 Appleyard, Holt
Tickets are £2, redeemable against the purchase of a book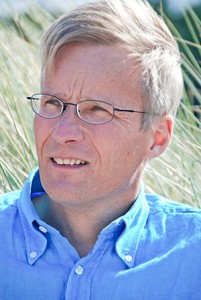 Come and meet North Norfolk author, Hugh Aldersey-Williams, whose new book Tide: The science and lore of the greatest force on earth, will be launched at the bookshop.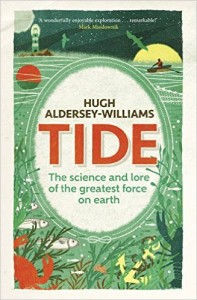 From Cnut to D-Day, Hugh's book explores the science and lore behind the tide. Hugh's previous books include Periodic Tales: The Curious Lives of the Elements, Anatomies: The Human Body, it's parts and the Stories They Tell and The Adventures of Sir Thomas Browne in the 21st Century.